18th century manor house future-proofs operations
If the goal is to pass on a viable farm to the next generation, you have to do what you can to keep a viable planet, says Fredric Paus. As the owner of Herresta Manor, he bought his first solar cells so he could look his children in the eye. Today, production from farm facilities exceeds total consumption.
Herresta in Sörmland is a farm with a long history. The main building was already built in 1718. But today Herresta Godsförvaltning is a modern company with activities in agriculture, forestry and rental properties.

"I see it as managing properties for the next generation," says Fredric Paus, whose family has owned the farm since the 1920s.
Under his leadership, the company has grown. Partly by purchasing surrounding farms and partly by expanding the business to include solar electricity production. The first facility was built in 2015 on the roof of an old boiler house that was converted into a farm office.

There were several reasons why I decided to go solar. I find new technologies interesting and I wanted to be less dependent on external energy. But above all, it was climate change," he says.
For several years, Fredric Paus had seen the effects of the warmer climate: greater forest growth, longer growing season, shorter and shorter ice season in winter.

I saw that things weren't right and I thought that if the children, when they grow up, ask me what I did when there was still time, I want to be able to look them in the eye. That's why I wanted to install solar panels.
Since the old boiler house had a south-facing roof, it was a very suitable location. Together with the supplier EnergiEngagemang, Fredric Paus built a roof solution of solar cells and sheet metal.

I had to reinvent the wheel a bit myself to get it the way I wanted it, and I got good help from EnergiEngagemang who found a good solution for me.
And the installation made Fredric Paus' blood boil. Already in 2017, the next solar plant was built on one of the outbuildings where a boiler plant with its own district heating system for the 11 tenants had been built three years earlier. The idea of the new photovoltaic system was to allow tenants to buy their own electricity.

In addition, we were able to feed the surplus into an acetic tank and heat their hot water, thus reducing the amount of chipping.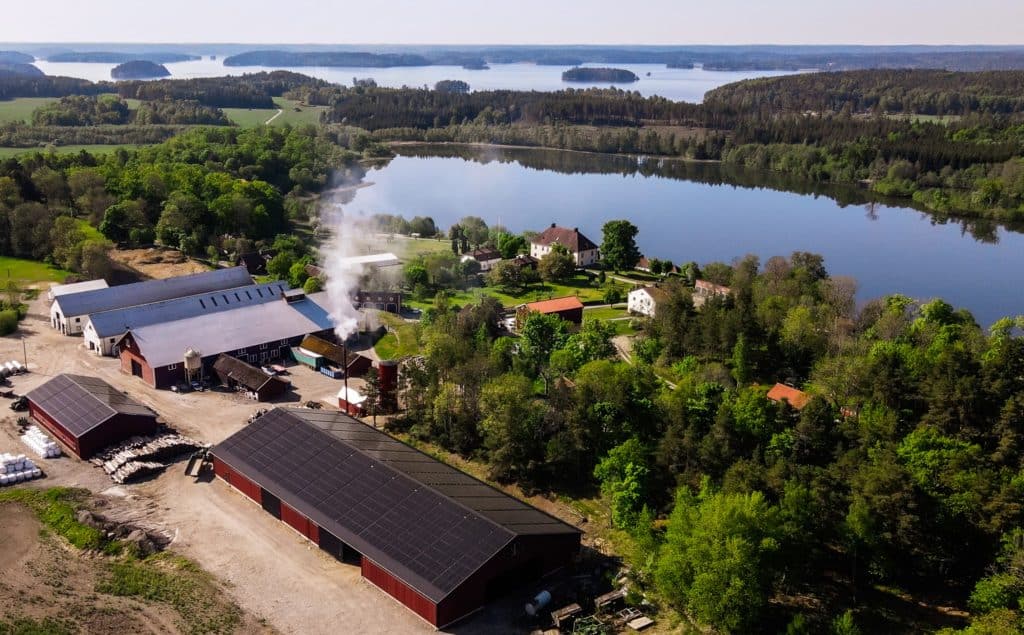 EnergiEngagemang sees that more and more businesses are choosing to future-proof their operations by investing in solar cells and energy storage. Like Fredric Paus, many property owners see advantages in creating more revenue streams while increasing their attractiveness as landlords by being able to offer green and fossil-free electricity.
Today, Herresta Estate Management has six photovoltaic installations on different roofs on the farm. Together they produce about 600,000 kWh per year. This is more than the farm's total consumption of 500,000 kWh per year.

The big advantage is that we produce electricity that we can use ourselves. We have great tenants and this way both we and they get good electricity at a good price," says Fredric Paus.

But solar cells also provide risk diversification and contribute to cash flow. The idea now is to invest further in solar, and to supplement it with an energy storage system in order to enter Svenska kraftnät's frequency market.

The best way to learn a new market is to test it.