The brewery that produces both beer and electricity
Beer is delicious, but it takes a lot of energy to both brew and bottle it. For Nya Carnegiebryggeriet, it was therefore natural to put solar cells on the roof when they inaugurated their new bottling plant.
– It feels great to know that we are contributing to a better environment," says Jonas Bjarre, Process and Packaging Manager at Nya Carnegiebryggeriet.
It all really started back in 2012. The small craft brewery started production in an old lamp factory in Hammarby sjöstad in southern Stockholm. And customers liked what they were drinking, so gradually production has increased – and increased – and increased. Until the old factory was filled to capacity with production equipment.
– "It's a very nice place, but it's K-labeled and it's right by the water, so it wasn't possible for us to expand production on site," says Jonas Bjarre.
Recycle all the heat
Instead, the solution was to split the business. The brewery itself remained in the old factory, while the bottling plant was moved to a newly built facility in Jordbro, just south of Stockholm in October 2020. This freed up space in Sjöstaden and allowed production to expand a little further. But brewing beer, like any other industrial production, is energy-intensive, and when Nya Carnegiebryggeriet was building a new facility, they took the opportunity to install solar panels over the entire roof of the new bottling plant.
– In the face of global warming, all businesses must do what they can. And we really want to do that. For example, we reuse all the heat that we produce in our brewery and we are big believers in bottling beer in cans instead of glass bottles. Cans have a high recycling rate in Sweden, plus it reduces weight while doubling the volume you can pack on a pallet. Since we have all this environmental thinking, it was natural for us to also utilize solar energy now that we had all this space on the roof.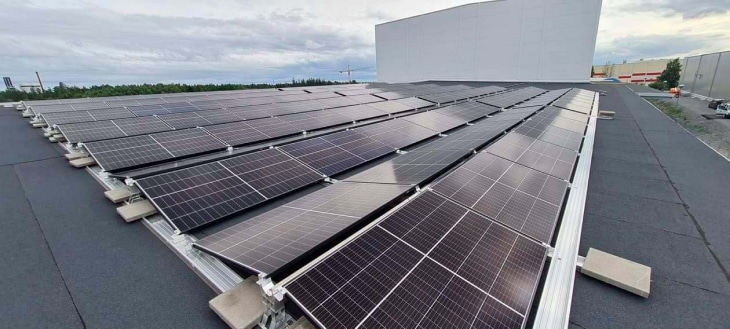 Ordered the whole service
But the New Carnegie Brewery is a pro at brewing beer, not at producing energy. The property owner, Albybergsfastigheter, owns the photovoltaic system itself. They in turn contacted us via Telge Energi. Based on joint discussions, we have managed the entire contract. The brewery has not had to do anything.
– It has worked very well. We have ordered the whole service, and it has just been running in the background without us having to do much. It has sort of taken care of itself.
The solar plant was commissioned in the summer of 2021, so it is still too early to see how much production has been achieved. Nevertheless, it has already had an impact on the company.
– This means that we know we are getting more green energy and it feels really great that we can be involved in producing some of what we use. The threat of climate change is a burning issue that is extremely important to address.